Work and Community Program (SLES)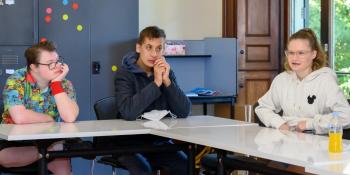 In the Work and Community (WCP) Program participants target their work-focused self determined goals in a group setting. This program forms the critical bridge between school life and work.
Supports provided in this program include:
helping participants explore and understand their work potential.

focus on capacity building, developing skills, independence, and confidence to work.

are tailored to the individual and their unique pathway to employment.

are reviewed periodically to make sure the supports are meeting the participant's goals.

Workplace Learning opportunities provided in a range of settings.
Our Work and Community Program (WCP) runs across two days a week and supports participants utilising their 'School Leaver Employment Supports' NDIS funding.
Whilst we advertise this as a 'program' it is important to note that it is not a 'one-size-fits-all' approach. These supports are person-centred, individually tailored, strategies which can be implemented so participants of varying skills and needs can reach their employment goals.